SKIN - our aim to help you manage your horse's skin condition
NAF have created a range of products specifically formulated to support horses' skin both inside and out. The love the SKIN he's in range features key products targetted at horses who suffer from itchy, flaky skin or lumps and bumps caused by seasonal irritations or allergic reactions.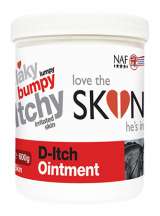 D-Itch Ointment
A nourishing ointment to help comfort areas of broken, irritated skin. Particularly recommended for skin affected by seasonal issues.
Directions for Use:
Gently apply to affected areas on a daily basis. In extreme cases apply twice a day. Wash the areas regularly with Teatree Oil Shampoo.
Available pack sizes:

600g.
» details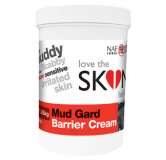 Mud Gard Barrier Cream
Mud Gard Barrier Cream
Protect your horse's skin when exposed to the wet and mud with this rich, nourishing barrier cream. Wash legs off thoroughly and apply before turnout. Contains MSM to support healthy skin and hair growth, and rosemary to soothe sore areas.
1.25kg Tub
» details