All you need for your horse and pony.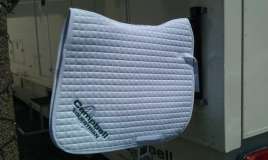 CAMPBELL EQUESTRIAN BRANDED MARK TODD DRESSAGE PAD
BRUSHED COTTON UNDERSIDE, HOOK AND LOOP GIRTH STRAP. MACHINE WASHABLE ON A COOL CYCLE.
TRADITIONAL DRESSAGE PAD - EMBROIDERED CAMPBELL EQUESTRIAN LOGO ON BOTH SIDES.
» details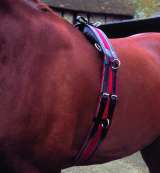 LUNGING ROLLER
4'' WIDE DOUBLE STRAP
» details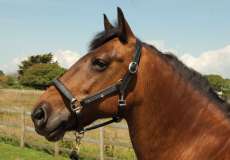 Windsor Sparkle Leather Headcollar
Leather Headcollar With Diamante Cheeks And Noseband.
» details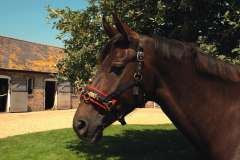 Nylon Lunge Cavesson
With Brass Fittings
Pony, Cob or Full.
Colour as shown
» details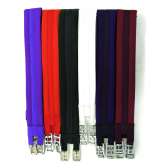 Cotton Padded Girth
Fantastic value
Available in Black, Brown and Navy
Sizes 32" - 52" in 2" intervals
» details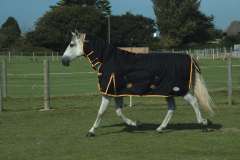 Rhinegold Eis Outdoor Rug
This Rug features 1680 denier, waterproof breathable outer which is teflon coated for extra protection and wearability.Heavyweight 350gsm polyfill with a breathable nylon lining, double chest straps, cross over surcingles and legstraps.
Fixed neck cover with easy and quick loop through elastic/velcro fastenings.
» details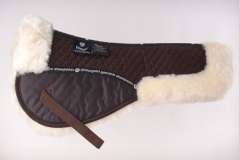 Rhinegold Real Sheepskin Saddle Pad
Grey/Grey No longer available
Rhinegold Sheepskin Comfort Saddle Pad
Top quality cotton saddle pad fully lined with the finest sheepskin.
Small quilting design gives the pad great stability , velcro girth attachment straps and tough cordura anti-rub panel for ease of use and endurance.
Sheepskin gives support and alleviates pressure while being breathable and giving extreme comfort.
Anatomically designed for a perfect fit on every horse, with rolled edges for extra comfort and softness.
Anatomically Designed
Adds Comfort For Horse And Rider
Eliminates Pressure Points
Sheepskin Promotes Blood Circulation
» details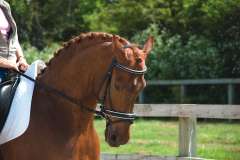 Rhinegold German Leather White Lined Bridle With Swarovski Crystal Browband
Top quality german leather bridle with swarovski crystal browband.includes reins with inside rubber grip.
» details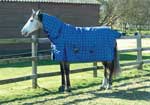 Rhinegold Combination Outdoor Rug
A 1000 denier ripstop, waterproof breathable outer, with attached neck cover. This rug also features a breathable nylon lining with 320 gsm polyfill, with cross-over surcingles, legstraps, front shoulder pleat, no back seam (to stop wither stress and leaks!) double chest straps and strengthened surcingle guides. The neck cover has twin easy 'click in' buckles.
Tough 1000 denier outer.
Shoulder movement pleats.
Breathable lining.
Attached neck cover.
320gsm polyfill
» details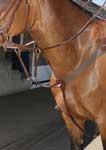 John Whitaker V-Check Elasticated Breastplate
This Breastplate is available in Oak Brown and Black. Available in sizes Cob and Full.
FEATURES
- Detachable running martingale
- Fully adjustable straps
- Brass fittings
- Elastic for less shoulder restrictions whilst securing saddle in place
» details
Weymouth Double
Stainless Steel
» details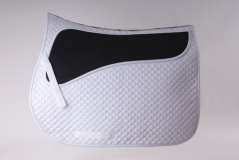 Rhinegold Pressure Pad Saddle Cloth
Black currently out of stock
Cotton Quilted Saddle Cloth With Neoprene Saddle Pad For Shock Absorption And Comfort For Both Horse And Rider.
» details