Health – our aim is to offer your horse the finest choice as nature intended
Nature knows best and we believe that if you wish to feed your horse natural unadulterated products, such as garlic and mint for their natural properties, you should be able to feed the best. So we carefully select our health range of equine supplements according to their purity, quality and integrity for your horse to enjoy.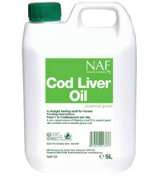 Cod Liver Oil
Rich in vitamins A and D, and also linoleic acid which is renowned for its benefits to suppleness and coat condition.
» details
Garlic Powder
Trusted by you, chosen by us, 100% pure garlic powder. One of the best known herbs in the world, garlic's use for health support dates back to Roman times. Research now shows that the key compounds within garlic, including allicin, sulphur and vitamins, support it's reputation. Garlic is recommended for general health and for day to day maintenance of respiratory health. For premium support of the respiratory system see Respirator and Respirator Boost. NAF Garlic Powder is chosen for it's purity and strength.
» details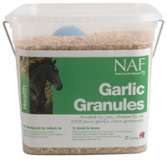 Garlic Granules
Garlic has been shown to support the immune system and purity of blood. Our garlic is chosen for it's purity and strength.
» details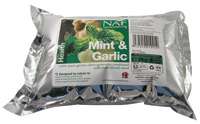 Mint & Garlic
Support everyday general health. Optimise respiratory and immune systems. Maintain appetite and healthy digestion.
» details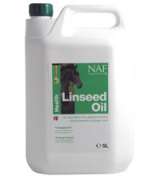 Linseed Oil
Nutritional support for a rich glossy coat.
» details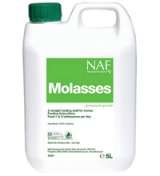 Molasses
Helps to increase the palatability of feed.
» details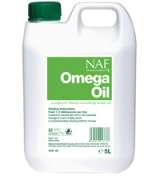 Omega Oil
A balanced blend of Omega 3, 6 and 9 fatty acids. Ideal for supporting healthy skin and coat condition.
» details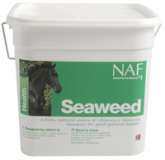 Seaweed
Contains a wide range of vitamins, minerals, trace elements and amino acids to support a healthy skin and coat. Economical to feed. WARNING: Do not feed to mares in the last 4 months of pregnancy.
» details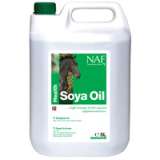 Soya Oil
High energy oil for equine supplementation.
» details