A range of products to give your horse protection from the flys including rugs, masks, tags, rider wrist bands and sprays for your horse.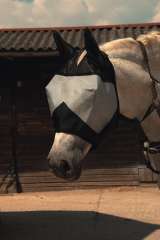 Rhinegold Fly Mask with Ears
Mesh fly mask with soft fleece binding and Ear coverage
» details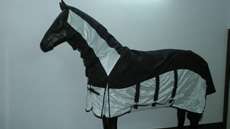 ProTack Waterproof Fly Rug Combo
The ideal choice for warm but showery weather. With a 600D top section which is both waterproof and breathable and mesh sides and full underbelly to protect against flies. Features shoulder gussets, tail flap and velcro neck fastenings. This rug is a must have for the unpredictable UK weather.
» details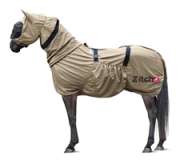 This rug is made from a 100% soft and tightly weaved polyester with elasticated edges that prevent small insects from getting to the horse. Dense and absorbing, it vents the sweat and reduces the damaging effects of UV rays on sensitive skin. Close fitting to the body it protects from the neck to the tail, whilst the hood covers from the shoulder to the head including a mesh eye section and an adjustable nose strap. It is equipped with adjustable flaps at the base of the neck and adjustable elastic straps on the neck and rear legs with clips. The belly is entirely covered with a wide removable girth that is clipped on at the top of the back. Elasticated and adjustable, with velcro and a clip anchoring system on the girth straps, interlocking with the sheet. Machine washable.
» details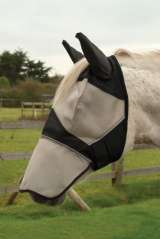 Rhinegold Fly Mask With Ear And Nose Coverage
Mesh Fly Mask With Soft Fleece Binding.
» details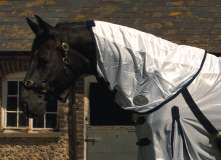 SUPERB VALUE
Mesh rug comes complete with a detachable neck.
» details