All you need for your horse and pony.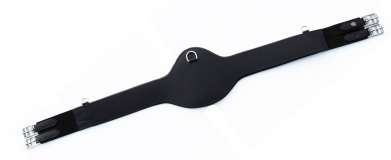 The Rhinegold Anatomical girth is available in short and long versions. This innovative design is aimed at maximum comfort and protection of the sensitive areas of the horses girthing area; thus this design gives horses the chance to move more freely. Includes the facility to clip training aids.
» details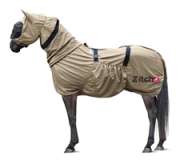 This rug is made from a 100% soft and tightly weaved polyester with elasticated edges that prevent small insects from getting to the horse. Dense and absorbing, it vents the sweat and reduces the damaging effects of UV rays on sensitive skin. Close fitting to the body it protects from the neck to the tail, whilst the hood covers from the shoulder to the head including a mesh eye section and an adjustable nose strap. It is equipped with adjustable flaps at the base of the neck and adjustable elastic straps on the neck and rear legs with clips. The belly is entirely covered with a wide removable girth that is clipped on at the top of the back. Elasticated and adjustable, with velcro and a clip anchoring system on the girth straps, interlocking with the sheet. Machine washable.
» details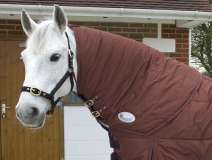 Rhinegold Orlando Neck Cover
300 gsm polyfill, 600 denier breathable outer.
EASILY ATTACHES TO 658 ORLANDO QUILT
» details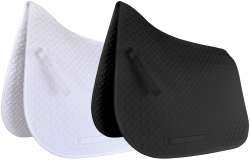 JHL Classic Dressage Saddlepad.
Features a hook and loop girth strap and restraining girth girth loop to prevent the saddle from slipping. Machine washable
» details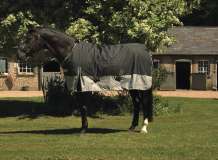 Rhinegold Thor Outdoor Rug
This rug features 1000 denier waterproof breathable outer, it has a heavyweight 350gsm polyfill with breathable nylon lining.
Double chest straps, cross over surcingles, legstraps.
Strengthened surcingle guides.
» details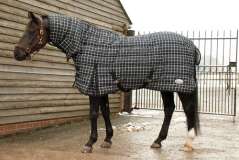 Rhinegold Full Neck Mega Stable QuiltHeavyweight stable rug with 350gsm polyfill and soft cotton lining.600 denier breathable outer, cross over surcingles, double chest straps, leg straps and tailguard.
breathable
warm winter rug
snug with full neck design
» details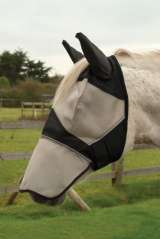 Rhinegold Fly Mask With Ear And Nose Coverage
Mesh Fly Mask With Soft Fleece Binding.
» details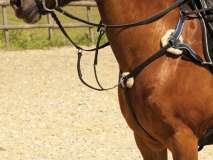 Windsor Leather 5 Point Breastplate
Five Point Breastplate, Fastens At Both The Girth And Saddle For Evenly Distributed Pressure And Security .
Real Sheepskin comfort pads
Black or Havana
Cob or Full Size
» details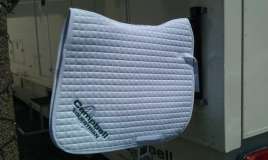 CAMPBELL EQUESTRIAN BRANDED MARK TODD DRESSAGE PAD
BRUSHED COTTON UNDERSIDE, HOOK AND LOOP GIRTH STRAP. MACHINE WASHABLE ON A COOL CYCLE.
TRADITIONAL DRESSAGE PAD - EMBROIDERED CAMPBELL EQUESTRIAN LOGO ON BOTH SIDES.
» details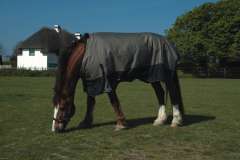 Rhinegold Blizzard Outdoor Rug
Tough, waterproof, ripstop, breathable outdoor rug, polyester insulated, cotton lining, no back seam, shoulder movement pleats. 600 denier ripstop outer, with 320gsm polyfill.
Multi-adjustable chest buckle
» details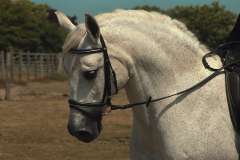 Rhinegold German Leather Bridle With Silver or Gold Piping Trim
Raised padded noseband and browband with silver or gold colour piping. Includes rubber reins.
Handcrafted from selected german leather with stainless steel fittings
» details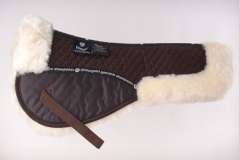 Rhinegold Real Sheepskin Saddle Pad
Grey/Grey No longer available
Rhinegold Sheepskin Comfort Saddle Pad
Top quality cotton saddle pad fully lined with the finest sheepskin.
Small quilting design gives the pad great stability , velcro girth attachment straps and tough cordura anti-rub panel for ease of use and endurance.
Sheepskin gives support and alleviates pressure while being breathable and giving extreme comfort.
Anatomically designed for a perfect fit on every horse, with rolled edges for extra comfort and softness.
Anatomically Designed
Adds Comfort For Horse And Rider
Eliminates Pressure Points
Sheepskin Promotes Blood Circulation
» details