Immunity – our aim is to restore the balance in your horse
A challenged immune system will affect your horse's wellbeing and performance. Targeted nutritional support can be extremely effective in maintaining healthy immunity. Our range of equine supplements utilise ingredients well known for their benefits to the immune system, such as Echinacea and garlic, combined with anti-oxidant rich formulas to offer unrivalled nutritional support for your horse's immune system.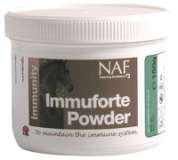 Immuforte Powder
The ultimate immune support for when they need it most.
» details
D itch Supplement
By improving the diet we can support the horse's own natural defenses. Specifically formulated to help the horse fight unpleasant spring and summer skin conditions, Love the SKIN he's in D-Itch Supplement provides a unique blend of scientifically verified, naturally sourced antioxidants to efficiently flush out the build up of free radicals associated with itchy irritated skin. D-Itch also includes herbs and nutrients to support strong healthy skin from within. For optimum support, start improving the horse's diet with D-Itch prior to the onset of midge menace, to allow the key nutrients to become assimilated within the system.
» details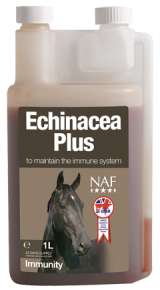 Echinacea Plus
For the maintenance of the immune system All horses sometimes need a little extra help, particularly those working hard, travelling regularly or facing a particular challenge. Echinacea is perhaps the best known herb for support of the immune system. Research shows that echinacea also support the health of red blood cells, essential for competition horses. Echinacea Liquid provides the ideal day-to-day support of the immune system. For optimum, concentrated immune support see Immuforte Powder.
» details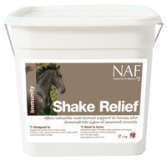 Shake Relief
Shake Relief is an advanced, veterinary developed nutritional formula designed especially for your horse if he becomes distressed by discomfort felt in his head. Feeding your horse Shake Relief will help make him happier, ride able and ready to shake the world!
» details