NaturalintX - our aim is to take care of your horse, naturally
With the ever increasing trend to move away from chemical and synthetic approaches towards caring for our horses, NAF have turned their expertise in natural equine care to first aid, with the launch of NaturalintX. Within the new NaturalintX first aid range, you will find a choice of veterinary approved, 100% natural dressings for wound management, together with naturally formulated applications to support the healing of minor wounds, cuts, abrasions and strains.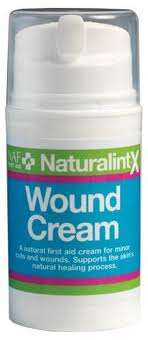 Wound Cream
A natural first aid cream to support the healing of minor cuts and wounds. Comes in a convenient pump dispenser for easy, hygienic application directly to the wound.
Directions for Use:
Gently apply to clean wound once or twice a day.
» details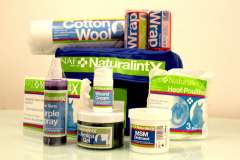 Superb Offer £74.95
First Aid Bag with all the contents: Naturalintx poultice, Hoof poultice, Aloe Vera Purple Spay, Arnica Gel, MSM Ointment, Wound Cream, Cotton Wool and 2 X wrap. Excellent carry bag with room for accessories. A must for every horse owner and horse!
» details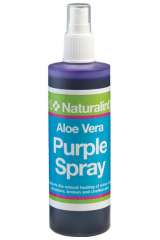 Aloe Vera Purple Spray
A gentle non aerosol spray to support the natural healing of broken or chaffed skin, minor cuts and abrasions. Also helps to discourage flies from open wounds.
Directions for use:
Gently spray onto affected area, ensuring it is clean and free from debris prior to application.
» details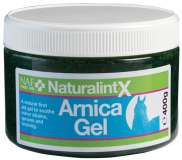 Arnica Gel
A smooth, cooling gel to soothe minor strains, sprains and bruising following muscular exertion, knock or blow.
Directions for Use:
Apply liberally and gently massage into affected area.
DO NOT USE OVER OPEN WOUNDS OR BROKEN SKIN.
» details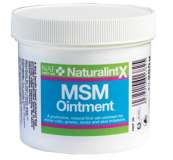 MSM Ointment
A thick lanolin based ointment that provides a protective barrier to minor wounds whilst supporting the skin's natural healing process.
» details
NaturalintX
The NaturalintX poultice is a highly absorbent, multi layered dressing impregnated with the natural poulticing agent Tragacanth and Boric Acid a mild, natural antiseptic. Tragacanth becomes active when wet, drawing any dirt and debris from the wound, while helping to maintain a moist, clean environment to support the natural healing of skin and tissue. The antiseptic quality of Boric Acid keeps the area clean and free from unwanted germs.
Active Ingredients:
Each poultice contains:
Tragacanth 6g,
Boric Acid 2g.
» details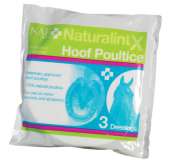 Hoof Poultice
The NaturalintX Hoof Poultice has been designed to comfortably fit your horses hoof, reducing preparation time and enabling ease of application. May be applied in three different ways depending on the wound to be dressed, either apply as a hot, cold or dry hoof poultice and hold in place with a NaturalintX Wrap.
» details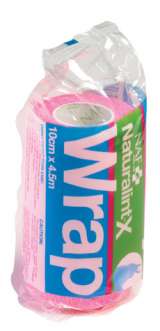 Wrap
A cohesive, elasticated support bandage, purpose designed to hold wound dressings carefully in place. When applied correctly at approximately 50% stretch the NaturalintX Wrap will effectively secure the dressing neatly and comfortably over the wound. Efficient and easy to use.
» details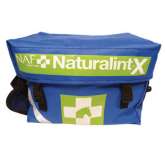 NaturalintX First Aid Bag
Premium First Aid Bag
Ideal for keeping all your NaturalintX products in one handy place whilst on the yard or travelling. Loads of space and compartments have everything in one place ready for when you need it.
» details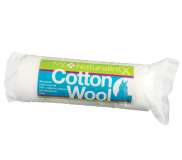 Cotton Wool
The super soft NaturalintX Cotton Wool Roll is made from 100% natural cotton fibres for maximum absorbency. Use as part of your routine animal care. A compulsory item of every first aid kit.
» details

EquiCleanse is the latest exciting addition to NAF's veterinary support range, NaturalintX, the natural answer to first aid. Designed for safe and effective wound management and proven to kill 99.9% of all known germs dead, EquiCleanse is formulated from naturally powerful Grapefruit Seed Extract. Used either neat or diluted in water, EquiCleanse offers a veterinary level of hygiene when cleansing minor wounds or caring for superficial skin irritations.
» details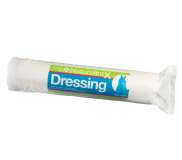 Dressing
The softly cushioned NaturalintX Dressing protects and insulates the leg to support minor wound management. The highly absorbent cotton padding is encased in a tubular non woven casing to provide a low adherent protective dressing.
» details