Leather – our aim is to provide the best possible care for your saddlery and bridlework
The Leather Care product range from NAF ensures that your leatherwork is given the best possible care with rich, moisturizing lotions and nourishing cleansers, all designed to keep your tack in top condition.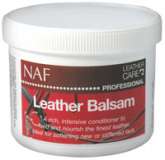 NAF Leather Balsam
A rich, intensive conditioner to feed and nourish the finest leather. This luxuriously rich balsam deeply penetrates the leather and maintains it in soft, supple condition. Ideal for softening new or stiffened tack. For very best results clean tack before use with Leather Cleanse.
» details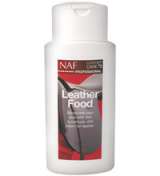 NAF Leather Food
Moisturise your tack with this luxuriously rich lotion for leather. Helps to restore damage caused by water, sweat build up or excessive drying out. Has long lasting lubricating properties ideal for softening stiff new leatherwork. For best results apply after cleaning with Leather Cleanse, which acts as a carrier to ensure Leather Food penetrates deeply into the leather.
» details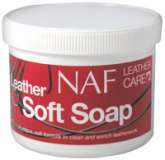 NAF Leather Soft Soap
A unique, soft formula to clean and enrich leatherwork. Lifts dirt and grease from the leather while softening leather. For a complete finish, allow to dry and polish surface of leather with a soft, dry cloth.
» details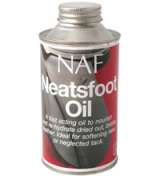 NAF Neatsfoot Oil
The traditional choice of saddlers. A fast acting oil to nourish and re-hydrate dried out, brittle leather. Ideal for softening new or neglected tack. Does not rot stitching.
» details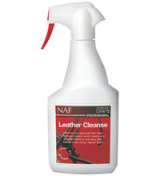 NAF Leather Cleanse
Care for your tack with this deep cleansing solution which cleans and supples leather in one easy step. Leaves a non sticky, natural finish. Can be used as a quick and easy one-step cleanser to lift dirt and grease and soften leather, or, prior to an application of Professional Leather Food or Professional
» details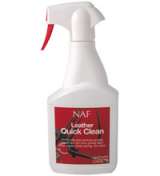 NAF Leather Quick Clean
This quick tack cleaner makes easy work of cleaning dirty leather. Simply spray directly on to soiled leather and effortlessly wipe away grease, sweat and dirt. When cleaning heavily soiled tack allow to soak on the surface of the leather for a few minutes before wiping off. Quick drying. Will not rot stitching or cause excessive drying out. For best results follow with an application of Leather Balsam, Leather Food, Leather Saddle Soap or Leather Soft Soap.
» details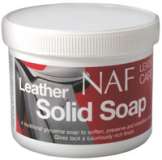 NAF Leather Solid Soap
A much favoured, traditional saddle soap to soften and condition leather. Ideal for use on all saddlery and harness. After use allow leather to dry, then buff with a dry, soft cloth for a polished finish.
» details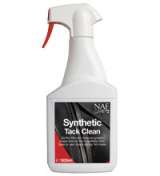 NAF Synthetic Tack Clean
A quick tack cleaner to effortlessly transform dirty, soiled synthetic tack. Suitable for all synthetic tack including saddles, bridles and boots.
» details