All Equilibrium's products are of the highest quality and are made in a way that gives you confidence in their ability to perform and help you enjoy your horse.
Equilibrium Therapy Range, Leg protection, Fly Protection, Sun Protection and Head Shaking.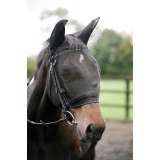 SORRY LARGE & X LARGE CURRENTLY OUT OF STOCK

The Equilibrium Net Relief Riding Mask with ears helps your horse to concentrate on working, rather than on flies.
Providing an effective barrier for flies and biting insects.
Excellent clearance over the eyes and eyelashes for a superbly comfortable fit.
The Equilibrium riding mask can be left in place when tacking up and untacking.
The Equilibrium Net Relief riding mask simply and safely attaches to any bridle.
Ideal for horses with eye problems.
Has excellent visibility for safer riding.
» details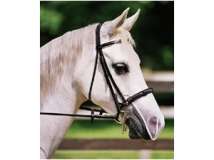 The Equilibrium Net Relief Muzzle Net provides effective relief from the symptoms of head shaking and improves 79% of sufferers (Clinical Trials De Montfort University, UK).
Totally unobtrusive and permitted by British Dressage and British Eventing for use in competition (see rule applying to the use of muzzle nets for each organisation).
The Equilibrium muzzle nets contoured mesh fits closely over the horses muzzle and places no restriction on breathing or type of bit used.
Easily attaches to the noseband.
» details