Targeted Probiotics Supplements for your Horse
Protexin Equine Premium is a leading range of unique probiotic supplements for horses and ponies fromProbiotics International Ltd. The Somerset based manufacturer is dedicated to producing innovative research based products of the highest quality.
Each supplement contains a high quality probiotic along with Protexin's unique Preplex prebiotic to help restore the balance of the microflora promoting effective health, recovery and performance in horses. Probiotics in the Equine Premium range are specifically developed to survive the transit through the gut and contain no known prohibited substances as defined by The Jockey Club and the FEI. Used by a number of top international competitors the range comprises four leading products; Gut Balancer, Quick Fix, Acid Ease and Recover Aid designed to assist in building up the horse's health and performance.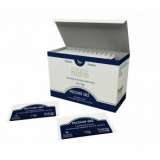 A palatable powder to aid recovery following strenuous exertion, a long journey or a virus. Can be used as a pre race/competition boost. Carefully balanced ingredients help liver function, strengthen immunity and aid digestion.
14 x 15g Sachets £23.95 (14 day course)
» details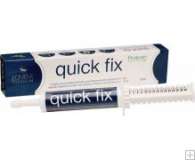 Quick Fix a very useful probiotic and prebiotic paste formulated to provide high levels of probiotics rapidly. Ideal when stressful changes are thrust upon a horse that impact on the gut. This can happen more regularly with competitions, travel, worming etc. Each 30 ml syringe is a 'mini' course in itself.
Six day course (5mls a day)
Easy to use
Peppermint flavoured
Can help to rapidly re-establish your horses gut mircoflora over short periods of higher stress such as travel, worming, competition or racing, or when your horse has a change of environment or diet. Can also be used as an aid to help maintain appetite. Indications:
Travel: give 4 days before travel, day of travel, and day after
Foals: give 1-6 days to provide beneficial microflora to help protect against disease
Worming: give 2 days before and 3 days after worming
» details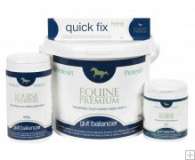 Gut Balancer containing both probiotics & prebiotics and yeast to re-establish a healthy gut microflora and to encourage normal digestive function and efficiency. A comprehensive product that can make serious improvements to a horse's condition.
- Includes beneficial microorganisms to rapidly populate the gastrointestinal tract
- Prebiotics to enhance the growth of beneficial microorganisms
- Improves consistency of stools
» details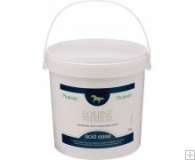 EQUINE PREMIUM ACID EASE
NEW CONCENTRATED FORMULATION
Acid Ease is a unique, concentrated, palatable combination of antacids, fibre, kaolin, amino acids and Protexin probiotics and prebiotiocs. Suitable to calm excess acid in all horses and weaned foals.
Feed 50g twice a day for the first month and then reduce by half as a maintenance.
Always looking to improve our products, and based on customer feedback, we have re-formulated Acid Ease into a palatable powder presentation, creating a more concentrated formulation.
THE SCIENCE:
New Acid Ease contains the antacids calcium carbonate and magnesium carbonate, as well as kaolin, pectin and L-threonine which together act to buffer excess acid and help protect and soothe the gut lining. The proportion of the high quality fibres – pectin and psyllium have also been increased to create this superior product.
» details