APOLOGIES CURRENTLY OUT OF STOCK
Easy Out
Look water! Designed to lift dirt, stains & odours effortlessly from manes, tails & the coat without the use of water. Excellent for last minute clean ups or when it's too cold outside. Silicone-free ideal for under saddle & on manes & tails to be plaited.
Shapley's Easy-Out No Rinse Shampoo is a must have to rid your horse's coat, mane and tail of stains and dirt or dust without having to get the horse wet. It is an excellent product for last minute clean ups or when it is too cold outside or not enough time to bathe the horse. Easy-Out removes the toughest stains from manure, urine, grass, sweat and mud. It also has a special odor eliminator that removes odors effortlessly, making it a wonderful product for pets too.
Easy-Out is specially designed to lift dirt, stains and odors to the surface where they can effortlessly be removed with a towel or cloth. It is simple to use too. Spray Easy-Out either directly on to the horse's coat for tough stains and dirt, let sit a minute then rub off with a towel or spray onto a cloth or towel and rub directly on the horse's coat. Rub against the hair to clean all the way to the skin. For manes and tails that are dirty or stained spray directly on to the hair until hair is wet especially in the case of tough staining on gray or light hair. Let the product sit for a minute or two, then carefully and gently use a towel to pull down the length of the hair to remove the stain.
Easy- Out has specially formulated optical brighteners that will enhance the normal color of the horse and add brilliant shine with no discoloring. Easy-Out is also safe to use under the saddle area and in hair to be braided as it contains no silicone even though it produces shine. It is an excellent product to remove deep dust or dirt from dark coats that can't be brushed out.
» details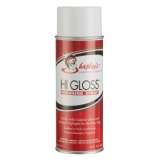 Hi Gloss is a light, oil based spray perfect for defining muscles and dramatically highlighting features. It adds superior shine and luster in seconds. Hi Gloss also conditions hair as well as adding incredible shine to the horse's coat, mane and tail.
Hi Gloss is excellent for adding dramatic shine just prior to entering the show ring. It accentuates all colors of horses. If used as part of a daily grooming routine it will keep skin and hair supple and conditioned.
Hi Gloss spray is easy to use. Hold the aerosol can 12 inches from horse and spray a light, even coat. You can also spray on a towel to gently wipe on horse's head to accentuate eyes, nostrils and ears. Spray lightly throughout tail to give it depth and highlights to catch and reflect light.
Hi Gloss has a light strawberry fragrance and is available in a 12 oz aerosol can.
» details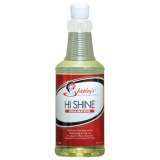 High Shine Shampoo
Outstanding clarifying shampoo that gently deep cleans hair. Produces rich, foamy lather that cuts through oil & grease rinsing out easily leaving no residue.
Hi Shine Shampoo is an outstanding clarifying shampoo that gently deep cleans hair. It produces a rich, foamy lather that rinses out easily leaving no residue even with cold water. Hi Shine will leave the coat, mane and tail squeaky clean, shiny and manageable. It is gentle enough to be used every day.
Hi Shine is specially formulated to cut through oil and will easily and effectively remove our Original M-T-G after treatment.
Hi Shine can be applied directly to wet coat or diluted in a bucket of water and applied with a sponge.
» details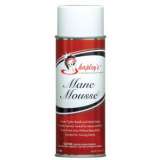 Mane Mouse
Provides optimum control & grip keeping plaits tight & neat. Ideal to train manes over, add waves or keep tails in shape. Never sticky or slick. Great on feathered legs to create fullness.

Mane Mousse is an essential, time saving braiding and banding aide. It provides optimum control and grip to easily and professionally braid or band hair. Mane Mousse keeps braids tight and neat. It controls hair and keeps stray hairs at a minimum even in humid or windy weather. Mane Mousse is an excellent product to use on long manes and tails to keep hair in place. It can also be used to train manes over.
Mane Mousse is never sticky or slick. It provides perfect 'grip' to braid the hair. Mane Mousse can be applied to wet or dry hair and will add volume and shine to hair. It is perfect for adding body, fullness and shine to tails and will also add waves when needed while controlling stray hair. It is great to use on feathered legs to create fullness on draft breeds.
To use, shake can and spray foam into your hand and apply to mane and tail hair.
» details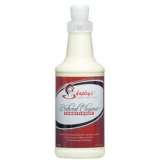 Natural Elegance
Intense, therapeutic conditioner for coats, manes & tails that has to be tried to be believed! Produces superior softness & shine. Vital for repairing dry, coarse & brittle hair. Dry, dull coats will be rejuvenated and manes & tails will comb out immediately. One application lasts 4-5 days!Natural Elegance

Only a small amount of this concentrated conditioner is needed. Work into wet hair after bathing and rinse out. It works even with cold water. Natural Elegance will produce a natural, healthy shine. Keep this product in a cool, dry place out of direct sunlight to keep ingredients from separating.
Natural Elegance needs to be a part of any horse owner's arsenal of products to contol hair damage and keep coat and tail hair strong, supple and silky smooth.
» details

Original M-T-G plus
Recommended by US vets as the only solution needed for a variety of bacterial & fungal skin problems with results seen as soon as a day after the very first application. Ideal to clear rain scald, mud fever, greasy heal, sweet itch, girth itch, itchy skin, dandruff & tail rubbing. Almost miraculously it will grow mane & tail hair by as much as 3 inches a month by creating a healthy environment for hair follicles resulting in maximum hair growth. Apply only once a week with no need to rinse off. Leaves a fresh herbal scent!
Original M-T-G has been providing quick and effective relief from numerous skin ailments since 1938! Originally formulated for humans, this easy to use product is the only one needed for relief from a variety of bacterial and fungal skin problems, such as :
Rain Scald, Mud Fever, Girth Galls, Sweet Itch, Dry Skin, Tail/Mane and Rubbing.
Original M-T-G and now also Original M-T-G Plus, (same formula, with a light herbal fragrance!) provide results after just one application! Formulated to eliminate the causative agent creating the skin problem, it conditions the skin and hair around the damaged area, promoting both healthy skin and maximum hair growth. In fact, Original M-T-G and Original M-T-G Plus, have proven to work exceptionally well promoting hair growth. Users report up to 3 inches of new growth on manes and tails in a single month.
Original M-T-G and Original M-T-G Plus, create a healthy environment for the hair follicle, resulting in maximum growth while keeping the length of the hair shaft soft and pliable for minimum breakage.
Original M-T-G is a time-tested, user-supported solution to both skin healing and hair growth in a single bottle. An oil-based product that does not require washing or water for application, it is not only easy to use, but great for cold weather. Original M-T-G is also effective on dogs and other animals' skin problems, such as hot spots, itching and dry skin.
» details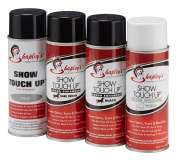 Show Touch Ups were created exclusively by Shapley's specifically for horses. This incredible product covers stains, scars, blemishes and flaws on your horse's coat. It can also be sprayed in tails to create a fuller appearance. Show Touch Ups are a must have for any horse competing or whenever you want to improve the appearance of your horse.
Show Touch Ups are safe and effective to use. They will not wash off in the rain, smear, clump or wipe off.
Show Touch Ups produce a natural look and feel. They are available in colors to perfectly match your horse's coat. They are excellent to hide any stains or blemishes on horses in halter, conformation or performance classes at shows. The White Touch Up is incredible for making white markings on your horse pop and for covering any stains.
Simply spray the Show Touch Up on to your horse's coat or tail in an even layer. Add color layer by layer until it matches the surrounding hair or completely covers the stain. Keep can about 12 inches from horse as you are spraying. Use a cloth to apply to horse's head and in the case of white markings cover the surrounding darker hair with towel, tape or the like to keep white spray from getting on dark hair.
Show Touch Ups are available in 10 oz aerosol cans. The colors are available in Black, White, Dark Brown, and Gray.
» details
APOLOGIES CURRENTLY OUT OF STOCK
Shapley's Tail Pick, with an easy to hold handle and wide teeth, removes tangles and burrs from manes and tails with minimal hair loss and breakage.
HELPFUL HINTS
Start at the bottom of the tail and work up. Hold the tail above where you are combing to eliminate creating tension at the hair follicle, which can weaken it. Work in small sections until the entire tail is snarl free.
If the tail has burrs and other "items" in it or is extremely tangled, apply Original M-T-G lightly to the entire tail and leave on overnight. The Original M-T-G will help prevent any skin issues that may be wanting to start on the tail bone. Use the Super Tail Pick to work out the tangles and burrs the next day and wash out. The results are a healthy, beautiful tail!
» details